Green Cleaning
Green living is now an integrated part of our lives and green cleaning is no different. It is one of the fastest growing industries right now. It is most beneficial to the environment and for your health. San Antonio Carpet cleaning is the leading green cleaning service in the area. We follow the latest science and technology innovations so you can enjoy the safest and most efficient services.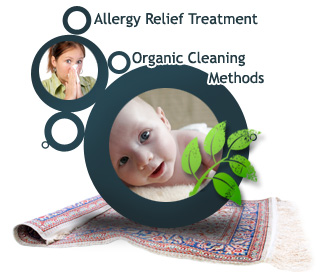 It is also important for us to mention you that with green cleaning you are helping to promote the growth of a green business industry. It helps contributing to a sustainable economy. That's why San Antonio Carpet cleaning is proud to offer its top Eco-Friendly services.
Organic Products
Organic Products are much safer than the synthetic ones. They are Biodegradable and free of toxic substances that may cause your health problems. San Antonio Carpet Cleaning only uses products that are free of carcinogens, toxins, neurotoxins and other harmful ingredients.
Organic products are also good for the environment as they are pH balanced and made from 100% recycled materials. They don't pollute the environment and they help you breathing cleaner air.
Green Services
Carpet Cleaning San Antonio Services holds the highest standards of cleaning equipment and cleaning solutions. Some cleaning services providers claim to offer green services. The fact is that not all of them truly provide it. Carpet cleaning San Antonio advises you to check first if your carpet cleaning service provider uses true organic products and suitable equipment.
Our green services include using a powerful vacuum witch stirs up dust and circulates it through the air instead of removing it. It will significantly improve your air quality.
Using Organic Products will not only help you're health and the environment it will also save you money, as they cost less than chemical-based products. No matter how you look at it, green services is what you need.
Healthcare
San Antonio Carpet Cleaning cares about your healthcare. Illnesses resulting from these toxins can be as mild as a headache or as severe as cancer In the US alone, 1 in 3 people suffer from allergies, asthma, sinusitis or bronchitis (US National Center for Health Statistics). By reducing synthetic chemicals dependence in your home you will prevent long term health concerns.
With green cleaning we minimize potential health risks associated with traditional cleaning services. We also want to encourage you to create a safe indoor environment by yourself. When cleaning, save the floor and carpet for last. By doing so, you allow the dust to settle before you vacuum. You can also reduce dirt by removing clutter that collects dust, like old magazines or newspapers. Open the windows from time to time or run an installed exhaust fans to keep new fresh air coming in.
Green cleaning will give you a feeling of gratification in knowing that your family's health is protected. Call us today! 210-858-9124 Be clean and go green with San Antonio Carpet cleaning.