San Antonio Upholstery Cleaning
San Antonio Upholstery Cleaning offers the finest residential, business and car upholstery service available. After thousands of hours conducting carpet and furniture cleaning throughout San Antonio, Texas, our technicians are certified experts in the field.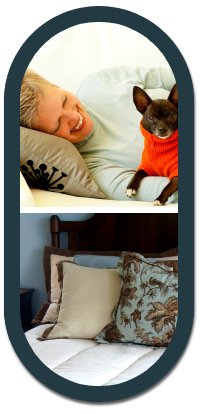 Upholstery Cleaning Service
Getting great upholstery cleaning service is important, as your furniture represent a sizable portion of your investment in interior design. They are primarily "permanent" pieces, rather than temporary pieces that are readily replaced or exchanged. For this reason, many of us will spend hours trying to decide between pieces that appeal to us on an aesthetic level or one that is functional.
It is also the reason that even those of us with a tight budget - especially those of us with a tight budget -are more likely to spend a little more on something a durable sofa or upholstered chair rather than purchase a less expensive model that looks like it won't stand up to the test of time. Once you've made your decision, you can maximize the life of you piece - practical or whimsical - with proper care and handling and with the help of San Antonio Upholstery Cleaning.
The first step in caring for your upholstered furniture is to brush and vacuum it regularly. Make it part of your regular housecleaning routine. Upholstered dining room chairs should be brushed after every meal.
Take extra care to vacuum behind and under furniture at least once a month. These dark, dusty places are the common household dust mites' favorite habitat.
Even stain resistant fabrics need proper treatment. Clean up spills and messes as soon as they happen to avoid permanent staining or discoloration. For more information, you are welcome to call us at San Antonio Upholstery Cleaning.
Professional Upholstery Cleaning
Professional upholstery cleaning service is irreplaceable. Even if you are conscientious about brushing, vacuuming and dealing with spills and accidents, your furniture will still needs more intensive care at least once every two years. Upholstery Cleaning San Antonio will take good care of any furniture you have. Don't wait for the unpleasant odors, seemingly permanent stains or fabric and fiber degradation. Deep, steam or dry cleaning will help you maintain the integrity of your upholstery.
Using the wrong products might cause more staining rather than prevent it. It can also lead to changes in color, over-wetting, etc. Upholstery Cleaning San Antonio is here to make sure this won't happen.
Call our main office San Antonio Carpet Cleaning at 210-858-9124 today for a free quote. Do not forget to ask about our car upholstery cleaning specials. If you've got upholstered furniture in your home or office - leather, microfiber, wool, natural fibers or synthetic - You can save a bundle by planning a customized clean-up session that combines several services on the same day.