Wood Floor Refinishing
If you have hardwood floors installed in your home or business and you haven't heard of Carpet Cleaning San Antonio, it's about time. There is nobody better at wood floor refinishing, cleaning and restoration. This highly esteemed, professional outfit spares no effort when called in to recondition an older or damaged floor or just clean and polish, if that's all that's needed.
Whether you've got hardwood flooring, oak flooring, a laminate floor or bamboo floor, regular maintenance and making sure you use the right floor cleaner will make all the difference in the world as to how well your floor will service you.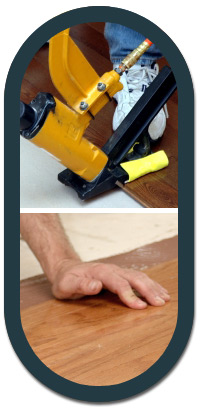 Maintaining Hardwood Floors
Though it may sound trivial, weekly sweeping or dusting with a clean, soft dust cloth is essential. Dirt and dust left on the floor will settle and dull the shine. Even worse, when you walk on a dirty, dusty floor the soles of your shoes act like sandpaper, wearing down the surface glaze. Make sure you use a soft bristle broom or you risk scratching the surface.
Hardwood floors are known for their durability. Some people erroneously think that this means they can take whatever abuse you can dish out. The truth is, while hardwood floors often wear better and longer than carpeted surfaces, they too are susceptible to staining and scratching.
To avoid scratching, make sure to install padding under furniture, place rugs, mats or carpets in high traffic areas and don't let people wearing sports shoes with cleats or high heels walk on your floors. Stains can be prevented by cleaning up any spills or pet accidents as soon as they happen.
If you've missed the moment and the floor appears to be stained, try rubbing a tennis ball or dryer sheet on the spot, surprisingly, this often helps. Avoid applying commercial stain removers unless you've already tested it in an inconspicuous spot and know that it will not damage your floor's finish.
Reviving Neglected and Abused Floors
Perhaps one of the best features of wood floors is that neglected or abused floors or floors that have been hidden under carpeting are worthy candidate for rehabilitation. Floor rehabilitation can be as simple as a professional polish or as complicated as a full-on refinishing job.
Most hardwood floors finished with a protective - and shiny - varnish coat. When the shine fades, you can try to restore it yourself or call on Carpet Cleaning San Antonio highly qualified craftsmen for a reasonably priced buff and polished. DIY enthusiasts should be careful when tackling this, or any other, hardwood floor chore. Improper technique, using water-based cleaning solvents or other inappropriate supplies can cause more damage than good. The buff and polish process consists of the following steps: removing all dirt and surface dust, buffing with a buffing machine and finally, hand polishing with a floor polish or floor wax.
Carpet Cleaning San Antonio - Highly Qualified Craftsmen
Refinishing is another way to revitalize a hardwood floor that's seen better times. This process, however, is much more complicated, more time consuming and more expensive. It requires special equipment and specialized knowledge. Hardwood floor refinishing is not a project to be entered into lightly.
Even so, it is well worth it, especially when you've got a reputable specialist like Carpet Cleaning San Antonio on your side. This hard-working organization employs only highly-trained experts in the field, so you are sure to get the highest quality treatment and top-notch results. Using state-of-the art equipment, eco-friendly products and tried and true techniques, your satisfaction is guaranteed. Call 210-858-9124 today for a free estimate.