San Antonio Tile and Grout Cleaning
San Antonio Tile and Grout Cleaning wants you stop scrubbing, hurting your elbows and knees. Over-cleaning can even damage your pressures tile and grout. Call us and rest the remainder of the day away, while we easily restore your tile and grout to its previous, beautiful condition.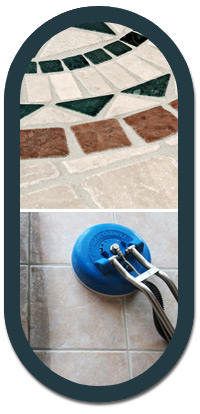 Whether you have colored grout, ceramic, porcelain, quarry, terracotta, terrazzo or agglomerate tile, we can get it looking lovely again! Our tile and grout cleaning technicians are experts in their field and have seen it all - and serviced it all.
Tile and Grout - Steam Cleaning
Tile and grout - steam cleaning is the perfect solution for most common problems, such as unglazed ceramic tile used in kitchens. Homeowners frequently do not know that unglazed tile will readily absorb stains, and food and drink spills happen frequently in the kitchen! To rectify such a situation, we would steam clean the tile.
The steam cleaning process involves our truck mounted steam machine cleaners, which are extremely powerful. They inject hot water into the tile, which loosens dirt, debris and staining particles, then the steam cleaner sucks out the water and loosened debris. When the stains are gone, San Antonio Tile and Grout Cleaning applies a sealant layer to your tile to protect it against future stains. By the way, if you are sick of your current tile, this is an easy way to change the look and color of your tile and grout without incurring the cost of renovation.
How to Clean Tile and Grout
We're happy to assist you on how to clean tile and. You can extend the time between needing professionally cleaning service. Starting with quickly mopping up spills, a weekly (or more frequent, if high-traffic areas require it), cleaning with a gentle solution like a half vinegar and half water mixture will keep dirt and debris to a minimum. For more significant stains, Tile and Grout Cleaning San Antonio recommends you to work your way up through regular household cleaners, such as Lysol, to specially formulated tile and grout cleaners, which are much harsher and should be used sparingly.
No one has to look closely at tile to see its age and wear; bathrooms and kitchens are two of the most obvious tellers of a home's age. San Antonio Tile and Grout Cleaning, however, offers quick and easy option to restore your home's beauty and take years off of its appearance. Whether you are in the market to sell your home or simply want to keep it looking clean and young, professional tile and grout cleaning gives you a fantastic 'bang for your buck.'
We know you really don't want to spend your weekend tile and grout cleaning. With a quick call to San Antonio Tile and Grout Cleaning, we can save you hours of knee and elbow-breaking labor. We can also save you lots of money you might otherwise spend on ineffective cleaning products. In the most extreme (but unfortunately, common) situation, we can save you from actually doing more harm than good to your tile and grout.
Call San Antonio Carpet Cleaning at 210-858-9124 today to start the process to loving your new, clean tile.