Rug Cleaning
Hassle free rug cleaning is what Carpet Cleaning San Antonio offers its clients. We work seven days of the week extending our expert cleaning services even during weekends and evenings.
Rug plays a very important role in the way our home looks; they add unique touch to the decor to any room and add color and character to the room. However, dirty rugs can decrease the aesthetic value of even the most beautiful room. Therefore, rugs has to be maintained and professionally cleaned regularly along with your carpets to ensure healthy air inside rooms as well as that hygienic feel that you want in your home or office.
Similar to carpets, rugs also accumulate dirt and are prone to stains. Cleaning is mandatory to keep it clean and looking fresh. Our rug cleaning service is very quick and efficient. Contact us for a reliable area rug cleaning services. We use state of the art cleaning mechanisms to clean any type of rugs like Oriental rug, wool rugs, Persian Rugs etc. Our organic approach to cleaning is our specialty making it very safe for use in homes with pets and children.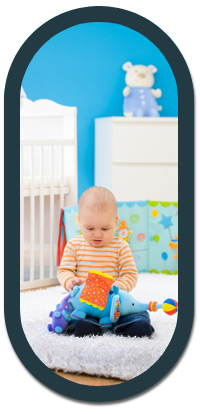 Professional Rug Cleaning Tidbits
Frequent cleaning of rugs ensures longevity. The rug material can be of various types like wool, Cotton, Sisal. These fabrics have to be cleaned using different cleaning methods and solutions.
Carpet Cleaning San Antonio - rug cleaning technicians have the required expertise to determine the type of method to be followed for each fabric.
For the best rug cleaning possible we have a special in plant cleaning, in which we pick up you rug, take them to our warehouse for a thorough cleaning. When the rug is clean, we drop it in your home. The pickup and delivery service is with no extra charge.
Steam cleaning offers thorough cleaning and so does hot water extraction. You can opt for dry cleaning if you are pressed for time and want to get the cleaning work done very quickly.
We also offer mold and mildew treatments, Teflon coating and Scotch Guard application for your rug on request. You can discuss your needs with our experts when they evaluate the cleaning to be done and they will provide you with a free estimate.


Do It Yourself Rug Cleaning, Think Again
Many a times, people tend to clean their own rugs. This can prove to be harmful as most people can pick a wrong stain removing solution and spoil the fabric.
To avoid such mishaps it is better to contact professional rug cleaning services like Carpet Cleaning San Antonio. Call us at 210-858-9124 for any kind of stain removal requirements.
Carpet Cleaning San Antonio helps you maintain color and texture of your rugs along with hygiene at very economical prices. So simply call us and let us do the rest.